Christmas in springtime?
2018 is nearly over and again we've seen some fantastic performances from the Bhoys during the year. Do you remember April 2018? On the 15th we beat THEM 4:0 in the Scottish cup and only 2 weeks later we enjoyed a comfortable 5:0 win against the same team. One month later we then were crowned Scottish champions and cup winners. The historical double treble was achieved. It felt a bit like Christmas in springtime. The festive days are not far away. We wish you and your family and friends some peaceful and calm days. And who knows, maybe you'll find a Celtic-parcel under your tree? 😉
Save the date #1 Old Firm
We will meet @Pickwicks Pub Bern for the last Glasgow Derby of the year.
Please join us – let's cover the pub in green and white. Game is on the 29th  of December, kick off 13.30h (swiss time).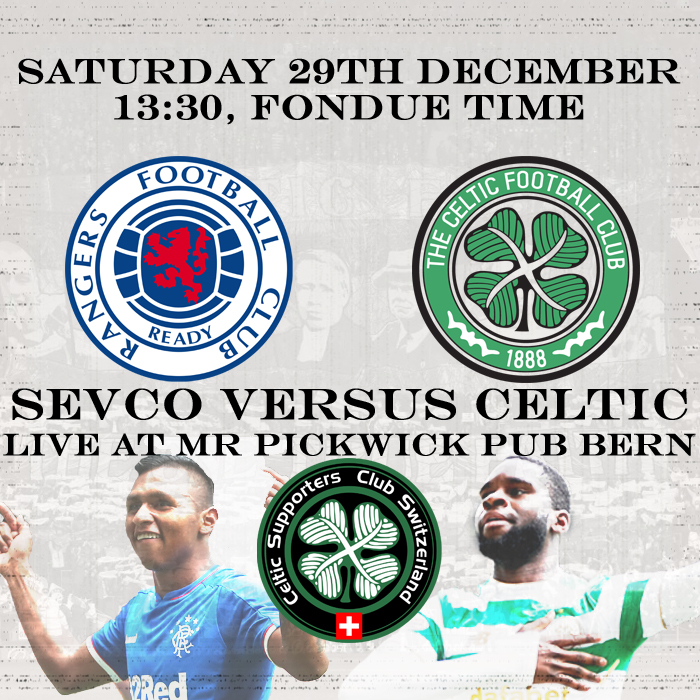 Save the date #2 AGM 2019
The general meeting 2019 will take place on Saturday, 13.04.2019 in/around Bern.
Details will follow. Please mark this date it in your calendar and join us.
Busy December
Celtic will play TEN times in December. Don't tell the Swiss teams. They are already complaining when they have to play 3 games in two weeks. However, we help you to keep the overview:
Sheeps (2.12.; Betfred Cup; N), The Well (5.12.; League, A), Killie (8.12; League; H), Salzburg (13.12. EL, H), Hibs (16.12., League, A), The Well (19.12., League, H), The Dee (22.12., League, H), Sheeps (26.12., League, A), Sevco (29.12., League, A).
 CSCS arrived in Toronto (Ontario, Canada):
Imagine that you are somewhere on holidays or on a business trip and you're thinking about what you could bring back as a souvenir? Well, Laura Shields from Toronto has found an easy solution.
Wherever she travels to and finds out about a local CSC, she's asking for a shirt and then bring one home to her father. So she did as she spent a few weeks in Basel. We think that is a fantastic idea. Her father, Danny Shields, was born in Glasgow about a mile from Celtic Park. Aged 17 year he played against Kenny Dalglish in a match against Celtic. He is now a member of the Bramalea CSC.
CELTIC SUPPORT Show racism the red card
Our captain, Scott Brown, recently said (Celtic View 10/18):
"Celtic has been a club open to all since its formation in 1888. At all times we continue to send the strongest message that no forms of discrimination have any place in football or society. Our club and the Celtic team are once again delighted to support this year's show racism the red card campaign."
Many Celtic Supporters Clubs urge their fans to continue their support about the anti-racism message. So do we: There is no place for discrimination, racism or sectarianism at Celtic Supporters Club Switzerland and there should be nowhere. Show racism the red card. Hail, Hail!
Leipzig away
Check out Stevie's blog here: CLICK HERE
HAIL HAIL from our board