The Celtic Supporters Club owns two season tickets at Celtic Park. These allow us to attend every Scottish Premier League home games and give us the opportunity to purchase Champions League / Europa League tickets as well as some Scottish Cup tickets.
Every member of the Celtic Supporters Club Switzerland has the right to use the season tickets and attend the games. Active members get one to two free games a year depending of their membership preference while passive members have the opportunity to attend games at a preferential rate. Please check our membership topic for more details.
Location
The tickets are located in the Jock Stein Stand: area 143, row G, seats 8 + 9 (marked on the stadium plan below with a red cross).

Here is what you see from there: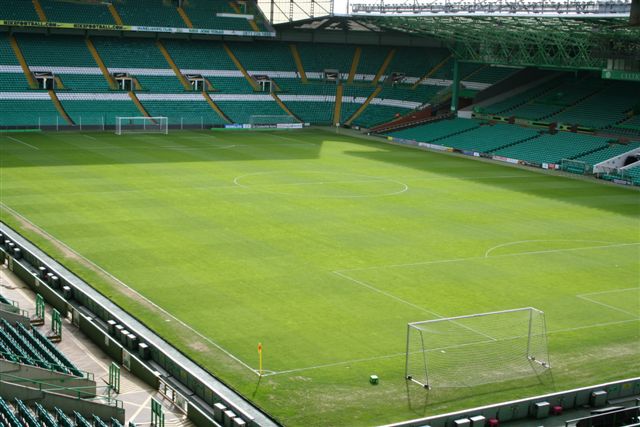 Who keeps our tickets?
Because it would have been sad to keep the tickets in a drawer here in Switzerland, waiting for a member to use them, we decided instead to let them in Scotland. They are safely kept by our dear friends Brian and Martin. Every time that a Swiss guy or girl wants to attend a game, we organise an appointment with Brian and Martin in a pub in Glasgow or directly at the stadium before the game where they can hand over our season tickets. Spending time with them is not only a pleasure but as well a great way for every newbie to learn more about the Celtic Football Club's traditions and all aspects of the life in Scotland. They will even guide you through the safest streets of Glasgow and prevent you from naively showing your enthusiasm whilst starting to sing some Celtic songs when crossing a unionist area for example.
Charity
Due to the small size of our supporters club it is logical that our tickets aren't regularly used by our members. It is indeed not possible for us to travel every weekend to Glasgow and therefore there are lots of games when our season tickets are not requested from us. We know how much Glaswegians love their football club and enjoy supporting it in the stadium. It was inconceivable for us to let the tickets at Martin's place and thus waste two seats that someone else would have liked to occupy.
Anyone who travels to Glasgow would unfortunately notice that some parts of the city are quite deprived, that there are homeless people begging and that food banks collections are not a rare sight. Coming from Switzerland, we were sorry and shocked to see such scenes. We wanted to help but didn't know how until the day we purchased the season tickets for the first time. We realised that they were not often used by our members and we then asked Brian and Martin if they could lend them to Celtic fans from deprived background who can't financially afford to see games in the stadium. Martin got in touch with his local church and together, when no Swiss is in town, they try to make poor people's life brighter for 90 minutes.
If they sometimes lend our tickets to friends who need a ticket for a special game and can pay something in exchange, the money is always given to charity or food banks.
The Celtic FC was founded in 1888 by Brother Walfrid, a religious man who wanted to reduce the poverty amongst the Irish immigrants in Glasgow. His idea was to create a football club to use the money generated for charity purposes. The club has perpetrated this charitable tradition throughout the years and we, at the CSC Switzerland, are proud to take part in that project too by lending our season tickets.
Terms of use season tickets
The use of our season tickets is split into two categories:
1. Normal home games (without Old-Firms)
Jimmy Johnstone members
The annual membership fee includes two home game tickets for free. Every additional ticket costs 20 CHF (payable at confirmation).
Henrik Larsson members
The annual membership fee includes one home game ticket for free. Every additional ticket costs 20 CHF (payable at confirmation).
All passive members
There is no free ticket included in the annual membership fee. Passive members can reserve the tickets for 30 CHF each (instead of ca 40 CHF). Active members will be favored.
If the tickets are not used by any member of the CSCS, Martin Kuhn / Brian Leslie will lend them to people in Scotland who cannot financially afford attending games or sell them to friends who need a ticket for a special game. All earnings from this will be donated as before to charity (e.g. food bank, etc.).
If more than two members ask for the same game, the active members have the priority over passive members. Then it's the "first come first served" scheme.
2. Old-Firm games
With the objective in mind to give all active members equal chances to getting a season ticket for the Old-Firm games, the board decided the following procedure:
All interested members have to bindingly register to the attention of our president for tickets not later than 2 weeks before the presale starts (the CSCS will communicate these dates on the social media platforms + one's own initiative). Active members will be favored. The guidelines above are still valid. If the Old-Firm ticket is not in one's free-contingent anymore, the above-mentioned amount has to be paid by the date of confirmation.
If we have more than 2 requests for tickets for the same game, the committee will draw the lucky ones to receive the tickets. Like this, the unlucky ones do still have time to try to get tickets on their own.
During a period of 2 seasons (beginning with season 2016/17, ending with 2017/18), one member will only be taken into draw, if he/she did not get the tickets before. After these 2 seasons, the count will be set to zero and everybody will be let into the draw again.
Passive members can also apply for season tickets for the Old-Firm games, but will only be taken into draw if no active members applied for the tickets. The above-mentioned amount is still due at the date of confirmation.
Adaptation of the guidelines
If the number of members will be increasing excessively, the board can change this rules and decide in the individual cases. Changes will be communicated immediately.
General-annual-meeting decision / Berne, 14.05.2016